Google launches a Facebook replacement
on
June 29, 2011
at
11:46 am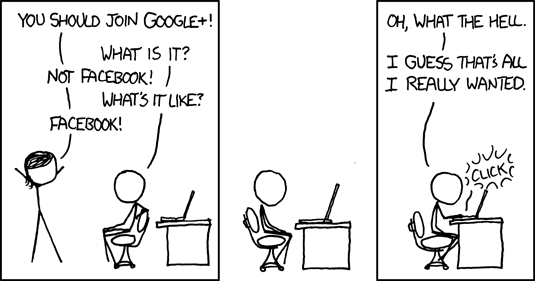 Are you sick of using the same social network as your parents? Well there is a new player on the block from our good friend's at Google. It is beta now and has a small user base. Google describes this project as follows:
Sharing is a huge part of the web, a part that we think could be a lot simpler. That's why we've been working on adding a few new things to Google: to make connecting with people on the web more like connecting with them in the real world. We hope you like what we've cooked up so far. And stay tuned, because there's more to come.
And here is what PCWorld has to say:
Google's new social network, Google+ premiered Tuesday promising a new spin on socializing online with a slick interface and unique spin on sharing with circles of friends. Google+ marks a departure from the social networking status quo represented by Facebook. The service launched to a limited number of users Tuesday in what Google is calling a "field trial." A few PCWorld staffers were lucky enough to be invited to try out the service (it'll roll out to everybody in the coming months), so naturally we got right to testing the new service.
In general we thought the service borrowed some good ideas from the reigning king of social networks, Facebook, but also offers some cool new approaches to sharing content and managing privacy. In short, Google+ is a solid start to an insurgent social networking platform that is sure to be enhanced rapidly over the coming months, and could soon offer a solid alternative to Facebook. Now, let's dig in.
Click through to read their full post or head over to Google for them to alert you when the service is ready for prime-time!
_TheConflictedAdmiN_